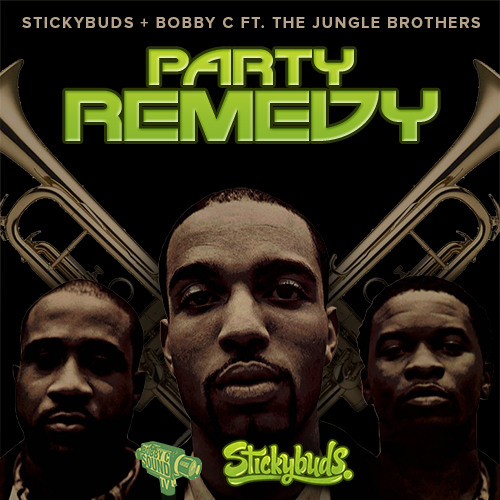 Here's a brand new tune that I did with my homey Bobby C Sound TV. Straight Funk Party vibes on this one featuring the legendary Jungle Brothers. Play it loud, funk up the dance. It's a free download, so please comment and share if you dig it!
A side note about this tune. It was inspired by the song "Got To Learn How To Dance" by the Fatback band. Which was recently sampled by Funkanomics and a few others. I basically recreated the main horn line / bassline of that tune in a different key, then got Bobby C to make some bad ass drums… This is our tribute to the Fatback band and Funkanomics, backed up by the legendary Jungle Brothers (the acapella is Rae and Christian Ft. The Jungle Brothres – Grand Central)…. Respect to all original artists.
Stay connected with our music at the following sites…
About Sticky Buds:
From the funkafied west coast of Canada, Stickybuds has been making his mark on music all over the globe. In the last few years he's found himself performing in 19 different countries, captivating fans wherever he goes. His work ethic and passion have also earned him a residency at Canada's Shambhala music festival (2005 – 2013), as well as performances at Glastonbury (UK), Splore Festival (NZ), Burning Man (USA) and the legendary Space club in Ibiza (ES).
With 23 releases on multiple labels, Sticky loves to create and play dance floor friendly music of many different tempo's. His sets are filled with Funk, DNB, Glitch Hop, Reggae and Breaks all intricately woven through countless hours in the studio.
The end of 2013 will be an exciting one as lots of new music is on the way from the Sticky one. Tours in CA / AU / NZ / UK / US and Europe are also all being planned as you read this.
Expect even bigger things to come from the forward thinking and all around nice guy Stickybuds.
www.Bobbycsound.tv
www.Facebook.com/Bobbycsoundtv‎
www.youtube.com/user/BobbyCSTV
www.Stickybuds.com
www.Facebook.com/Stickybuds
www.twitter.com/#!/djSTICKYBUDS